Wakaba Nijou (二条 若葉 Nijou Wakaba) is a heroine of Summer Radish Vacation.
Background
Wakaba is the only daughter of Ms. Nijou and Tomaru Sawagoe, born a year after Shun.
Summer Radish Vacation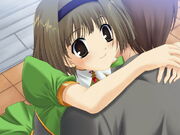 She is often caught sneaking around the Radish by its manager, Kagura. Her main focus is the changing room as she wants to try on the uniforms. Shun can catch her in the act, coerce her into sex, and blackmail her with photos.
Later in her route, she bandages Shun's foot after he steps on a piece of glass at the beach. She also tells him about her then-pregnant mother after he discovers a photo of her with Kagura and his own mother.
After Summer Radish Vacation
She later gave birth to hers and Shun's first daughter, Hanon, and a year later, twins Kazuha and Futaba, also fathered by Shun. Years later, she had six more daughters by (an) unknown father(s).
Although Wakaba doesn't make a direct appearance in, she is mentioned several times by her daughters, Inori Ashikaga, and Hanon's friend, Niki Ookuma. According to Niki, Wakaba may not have good relationship with Hanon since Niki doesn't even know her name despite going to the same school as her daughter.
Trivia
Her name Wakaba means "young leaves".
She is surnamed after the Nijou Clan.
Community content is available under
CC-BY-SA
unless otherwise noted.