Risa Inou
Gender
Female
Family and Relatives
Tomaru Sawagoe (father/grandfather/great-grandfather/great-great-grandfather/lover)


Rio Inou (mother/paternal half-sister)
Hajime Inou (paternal half-sister/grandmother)
Kagura Inou (paternal half-sister/great-grandmother)
Rika Inou (daughter/paternal half-sister)
Unamed child
Risa Inou (伊能 理沙 Inō Risa) is the mother of Rika Inou.
Information
Risa Inou is the daughter of Tomaru Sawagoe and Rio Inou. Eventually, she became pregnant by Tomaru and gave to birth a daughter named Rika.
Summer Radish Vacation 2
She and her mother become pregnant together and they were hospitalized at the same time for childbirth. She appears only in a photo shown by Rika. There is also a variation photo of them in bondage too.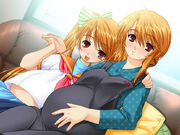 Community content is available under
CC-BY-SA
unless otherwise noted.