Rio Inou
Age
7 (Summer Radish Vacation!!)
Gender
Female
Hair
Ginger
Eyes
Reddish-brown
Affiliation
Summer Radish
Occupation
Magager of Summer Radish fourth shop (Summer Radish Vacation!! 2)
Family and Relatives
Tomaru Sawagoe (father/maternal grandfather/maternal great-grandfather [via Kagura]/maternal half-great-granduncle [via Moegi]/lover)


Hajime Inou (mother/paternal half-sister)
Mai Kiyoura (half-sister/aunt)
Rina Inou (half-sister/aunt)
Kagura Inou (maternal grandmother/paternal half-sister)
Moegi Inou (maternal great-grandmother [via Kagura]/paternal half-aunt)
Risa Inou (daughter/paternal half-sister)
Unamed child
Rika Inou (granddaughter/paternal half-sister)

Seiyuu
Hina Usami (SRV1)
Rio Inou (伊能 理央 Inō Rio) is a secondary character in Summer Radish Vacation and appears in a photo in Summer Radish Vacation 2. In the latter game, she is the manager of Summer Radish's fourth shop.
Information
Rio Inou is the daughter of Tomaru Sawagoe and Hajime Inou. As Hajime was very young and her body was not developed enough, she died during childbirth. Kagura, who at the time was also pregnant by Tomaru, gave to birth a daughter named Rina Inou on the same day. Kagura ended her relationship with Tomaru and raised Rio alongside Rina.
Summer Radish Vacation!!
She and Rina are always together and their events are marked with the faces of the two. They are presented to Shun during the welcome party for him and Mai.
During the day, their events appear in locations of Haramihama and at night. It's possible to find them in Kagura's room or in the Lobby. In some of Tomaru's nighttime events that occur in Kagura's room, they are playing with Tomaru and Shun interferes. These events will influence the ending: if few or none of these events were triggered and neither Kagura, Mai, nor Youko were taken away by Tomaru, she and Rina will be taken away by Tomaru in the ending.
After Summer Radish Vacation!!
Though she liked Shun and hated Tomaru, she, along with Rina, was taken away by him and was repeatedly raped by him after she had her first menstruation. She was impregnated by him and gave birth to a daughter named Risa, after which she resigned herself and became completely obedient to Tomaru.
Summer Radish Vacation!! 2
She is the manager of Summer Radish's fourth shop. She and her daughter became pregnant together and were hospitalized at the same time for childbirth. She appears only in a photo shown by Rika. There is also a variation photo of them in bondage too.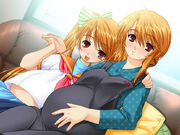 Etymology
Her given name Rio (

理央

) consists of "principle" (

理

) and "center" (

央

).
Her surname may also reference Tadataka Inou, a cartographer known for completing the first map of Japan, OR Kanori Inou, an anthropologist known for his studies in Taiwanese Aborigines.
Trivia