The 0verflow Pleasure Box was released in early 2001. It was a fan disc that provided supplemental materials for the 2 games the company had produced so far: Large PonPon (1999) and PureMail (2000).
Composed of: 
PureChatter: A mini game typing.
☆QuizDE☆PonPon : Sequel to LargePonPon and a Quiz game.
PureMail Gaiden: Gaiden story of PureMail. 
PureMail After
Staff Room
A trailer of a future game
It was followed by Snow Radish Vacation in late 2001.
Characters
(include but are not limited to)
New:
Shou Furuya ( 古谷 奨 ) a middle school student and the protagonist of PureMail Gaiden
Maaya Tomosaka ( 友坂 真彩 ) a middle school transfer student with blue hair and the main heroine of PureMail Gaiden
Trailer:
Returning male protagonists:
Returning females from PureMail:
Screenshots
PureMail After
Trivia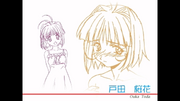 Ouka Toda is a character shown in the trailer. She is listed in the 0verflow Character Adultery Chart as Touri's half-sister although the game has never been released.