Kumi Mori
Born
14 July
Blood-Type
AB
Gender
Female
Height
152cm
B.W.H
77-58-80
Hair
Brown
Eyes
Green
Affiliation
Sakakino Gakuen
Occupation
High School Student
Family and Relatives
Misao Mori (possible relative)


Youji Shiba (possible boyfriend)

Seiyuu
Eri Saita (credited as Nene)
Kumi Mori (森 来実 Mori Kumi) is a member of the trio. She has the lightest and longest hair out of them, and unlike the other two, it isn't spikey. She's notable for wearing a headband.
School Days
Edit
The Visual Novel
Edit
She's usually seen with the trio and participating in the bullying Kotonoha has to endure. She's mentioned to be the quietest girl out of the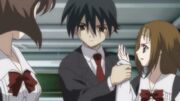 three but is the only one with a boyfriend. Her boyfriend is mentioned to be a university student.
Apart from Otome she enjoys bullying Kotonoha the most and is the one that almost slaps Kotonoha in one of her endings. But she and Natsumi are slightly less cruel than Otome and in the event, Makoto does come to Kotonoha leaves her alone.
In episode 8, Kotonoha asks Kumi's friends if they had seen her because she was supposed to help with the festival. Her friends say that they haven't seen Kumi, leaving Kotonoha to do the job herself.
In episode 9, After Evening Festival, she mentions that she has a date with her boyfriend, which makes the rest of them jealous.
In episode 11 she reveals that she was also caught on tape in the break-room with her boyfriend. She seems less upset by it than Nanami (also caught on tape) was.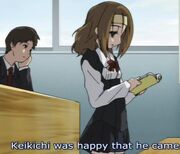 She has the same surname as Misao Mori, the heroine of MISS EACH OTHER. However, it is unknown if they are related
Her seiyuu, Eri Saita also voiced Ai Ogata and Touri Sawagoe.
Given their resemblance and that Kumi was said to be dating a university student surnamed Shiba, it's possible that Youji Shiba is the boyfriend in question.
Community content is available under
CC-BY-SA
unless otherwise noted.