Karen Katou (加藤 可憐 Katou Karen) is a sub-heroine of Summer/Shiny Days.
Background
Karen is the second daughter of Mr. and Nadeshiko Katou, as well as the younger sister of Otome Katou.
Personality
Karen is playful and yet forceful. Unlike her sister, Karen gets along with many people easily.
Appearance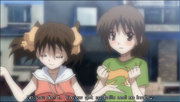 Karen is a short girl with brown hair tied with ribbons into twin-tails. She also has brown eyes like her sister, Otome. Unlike her, though, Karen appears to have a much bigger bust, despite the age difference.
School Days
In the visual novel, she's mentioned to be one year younger than Otome and since they went to the same Junior High, the two of them used to hang out with Makoto Itou. Otome also mentions she's studying to try for their school, while Makoto reveals she is a good sports player, but is bad at studying.
Summer/Shiny Days
In both Summer Days and Shiny Days, Karen has three endings titled "Karen's Summer", "Haramihama Love Triangle", and "Becoming Part of the Family". She is often accompanied by the Nijou twins.
Etymology
Her given name Karen (

可憐

) means "cute".
Her surname and birthday are derived from Prime Minister Tomosaburō Katō.
Gallery