Hanon Nijou (二条 葉音 Nijou Hanon) is a minor character in Cross Days and Shiny Days.
Background
Hanon is the oldest daughter of Wakaba Nijou and Shun Hazama, as well as the older sister of Kazuha and Futaba Nijou. She attended Haramichuu and was rumored to have fallen for Makoto Itou, which made her subject to bullying from Otome Katou. She was also witness to Otome's bullying of Roka Kitsuregawa.
After middle school, Hanon enrolled in Watajo, where she became best friends with Niki Ookuma.
Appearance
Like her younger twin sisters, Hanon sports a sandy brown bob-cut, has greenish-brown eyes, and bears an exact resemblance to the twins. The only way to differentiate her from her sisters is her blue headband. She is shown to wear a Watajo uniform in Cross Days and a black hoodie with a tan skirt in Shiny Days.
Personality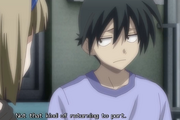 Hanon appears to be an outgoing person, similar to Niki. She is also known to have had many sexual partners through her compensated dating activities, and is known to be joking around a lot. Hanon doesn't get along with Otome due to her past bullying, although she gets along with Otome's younger sister, Karen.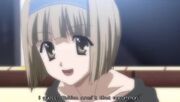 She also appears to not have a good relationship with her mother since she rarely stays at home to look after her younger sisters. Despite this, Hanon appears to be skilled in taking care of them since she puts Itaru to sleep easily, something that Makoto notes. Among all the girls, she and Makoto have the most platonic relationship, with both easily cracking jokes and conversing when around each other, though she rarely sees Makoto since her fallout with Otome and enrollment at Watajo.
For an unknown reason, Hanon hates Radish, unlike her younger sisters.
Shiny Days
Main Route
She and Niki can attempt to recruit Sekai Saionji and Ai Yamagata into compensated dating.
Inori Route
She has a run-in with Otome, which causes Niki to try to turn Setsuna against Otome.
Cross Days
Hanon is one of Kyouichi Kasannoin's "other women". In at least one route, she can be caught with Kasannoin on a train by Kotonoha Katsura, which leads to Nanami Kanroji learning of the affair and breaking up with Kasannoin. In certain routes, Hanon and Kasannoin go on a double-date with Niki and Yuuki Ashikaga at Sweets Ohara, and she can later explain to Yuuki why Otome constantly bullies Roka.
Etymology
Her given name Hanon (

葉音

) means "the sound of leaves". Unlike her younger sisters, her name doesn't contain any numerical kanji.
Her surname comes from the Nijou clan. 
Trivia
Interestingly enough, she is one of the few female characters to not have any interest in Makoto, nor to have any sex scene with him. In addition, despite being stated to be one of the most sexually active characters, she's not shown to have sex with anyone on screen whether in the main games or Strip Battle Days.
She is not named on the official adultery chart.